Medals (sometimes called badges) are awarded to agents as they reach set milestones.
Medals are needed to achieve levels 9-16.
There are 5 tiers of each medal available: Bronze, Silver, Gold, Platinum, and Black (also called Onyx). Each tier requires more and more work than the previous.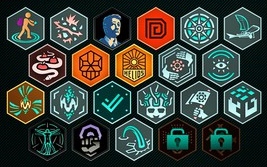 One Time Medals
Edit
These medals can only be gained by agents playing during specific times. They have no tiers and cannot be used to level up.
Founder
badge is a special badge awarded to Agents that were supporting Ingress from early on. This badge doesn't have tiers like the others but is something that every Agent is displaying proudly on their profiles. The Founder badge was only achievable on December 14th 2013 and only for agents that were Level 5+.
Verified badge is a special badge awarded to Agents that verified their account via e-mail. This verification needed to occur upon hitting level 2, as the interface would stop collecting XM and your inventory would be limited to 100 items. As of September 2015, verification was permanently removed from Ingress and the item cap is currently 2,000 for all Agent levels.
Event Medals
Edit
Participation in Anomalies will grant the agent a badge.
Mission Medals
Edit
Mission medals are rewarded for the first completion of any mission. They are one time and do not help with level. Every area has its own set of missions and, thus, medals for them. The number of medals is too large to include here.
Medals Calculator
Edit
This site is a calculator for medals.
Standard Medals
Edit
Medal Name
Medal Description
Medal Requirements

Sojourner

Edit

The Sojourner medal is achieved by hacking a portal in consecutive 24 hours periods.

| | |
| --- | --- |
| Bronze: | 15 days |
| Silver: | 30 days |
| Gold: | 60 days |
| Platinum: | 180 days |
| Black: | 360 days |

Date Added: March 5th, 2015

Illuminator

Edit

The Illuminator medal is achieved by capturing MU via Control Fields Δ over populated areas.

| | |
| --- | --- |
| Bronze: | 5,000 |
| Silver: | 50,000 |
| Gold: | 250,000 |
| Platinum: | 1,000,000 |
| Black: | 4,000,000 |

Date Added: February 26th, 2015

Translator

Edit

The Translator medal is achieved by using Glyph Hacking to gain items from a portal.

| | |
| --- | --- |
| Bronze: | 200 |
| Silver: | 2,000 |
| Gold: | 6,000 |
| Platinum: | 20,000 |
| Black: | 50,000 |

Date Added: January 29th, 2015

Recruiter

Edit

The Recruiter medal is achieved by inviting agents that reach Level 3.

| | |
| --- | --- |
| Bronze: | 2 |
| Silver: | 10 |
| Gold: | 25 |
| Platinum: | 50 |
| Black: | 100 |

Date Added: January 15th 2015

The Trekker medal is achieved by total distance the agent walked while playing Ingress.

| | |
| --- | --- |
| Bronze: | 10 km |
| Silver: | 100 km |
| Gold: | 300 km |
| Platinum: | 1,000 km |
| Black: | 2,500 km |

Date Added: December 16th, 2014

The Engineer medal is achieved by deploying Mods on Portals.

| | |
| --- | --- |
| Bronze: | 150 |
| Silver: | 1,500 |
| Gold: | 5,000 |
| Platinum: | 20,000 |
| Black: | 50,000 |

Date Added: December 16th, 2014

The SpecOps medal is achieved by completing unique Missions.

| | |
| --- | --- |
| Bronze: | 5 |
| Silver: | 25 |
| Gold: | 100 |
| Platinum: | 200 |
| Black: | 500 |

Date Added: December 16th, 2014

Recharger

Edit

The Recharger medal is achieved by recharging portals with Exotic Matter

| | |
| --- | --- |
| Bronze: | 100,000 |
| Silver: | 1,000,000 |
| Gold: | 3,000,000 |
| Platinum: | 10,000,000 |
| Black: | 25,000,000 |

Date Added: February 6th, 2014

Connector

Edit

The Connector medal is achieved by Linking portals.

| | |
| --- | --- |
| Bronze: | 50 links |
| Silver: | 1,000 links |
| Gold: | 5,000 links |
| Platinum: | 25,000 links |
| Black: | 100,000 links |

Date Added:

The Builder medal is achieved by deploying Resonators to portals.

| | |
| --- | --- |
| Bronze: | 2,000 |
| Silver: | 10,000 |
| Gold: | 30,000 |
| Platinum: | 100,000 |
| Black: | 200,000 |

Date Added:

The Explorer medal is achieved by visiting and Hacking distinct Portals.

| | |
| --- | --- |
| Bronze: | 100 |
| Silver: | 1,000 |
| Gold: | 2,000 |
| Platinum: | 10,000 |
| Black: | 30,000 |

Date Added:

The Guardian medal is achieved by protecting and maintaining control of a Portal for a certain time. The Medal was discontinued on Apr 2nd, 2018

| | |
| --- | --- |
| Bronze: | 3 days |
| Silver: | 10 days |
| Gold: | 20 days |
| Platinum: | 90 days |
| Black: | 150 days |

Date Added: ? - 04/02/2018

The Hacker medal is achieved by Hacking Portals.

| | |
| --- | --- |
| Bronze: | 2,000 |
| Silver: | 10,000 |
| Gold: | 30,000 |
| Platinum: | 100,000 |
| Black: | 200,000 |

Date Added:

Mind Controller

Edit

The Mind Controller medal is achieved by creating Control Fields.

| | |
| --- | --- |
| Bronze: | 100 |
| Silver: | 500 |
| Gold: | 2,000 |
| Platinum: | 10,000 |
| Black: | 40,000 |

Date Added:

The Purifier medal is achieved by destroying enemy Resonators.

| | |
| --- | --- |
| Bronze: | 2,000 |
| Silver: | 10,000 |
| Gold: | 30,000 |
| Platinum: | 100,000 |
| Black: | 300,000 |

Date Added:

Liberator

Edit

The Liberator medal is achieved by capturing Portals.

| | |
| --- | --- |
| Bronze: | 100 |
| Silver: | 1,000 |
| Gold: | 5,000 |
| Platinum: | 15,000 |
| Black: | 40,000 |

Date Added:

The Pioneer medal is achieved by capturing unique Portals.

| | |
| --- | --- |
| Bronze: | 20 |
| Silver: | 200 |
| Gold: | 1,000 |
| Platinum: | 5,000 |
| Black: | 20,000 |

Date Added:
The Recon medal is achieved by gaining Operation Portal Recon agreements.

| | |
| --- | --- |
| Bronze: | 100 |
| Silver: | 750 |
| Gold: | 2,500 |
| Platinum: | 5,000 |
| Black: | 10,000 |

Date Added: July 25th, 2017